So, What's Prop It!
Prop It! is a compact and portable 2-way door stop that can be used in the door jamb (whether it's a continuous hinge – also known as a piano hinge – or standard 3-hinge door) or under the door, designed to hold ANY door open to a 90 degree angle.
Customers LOVE Prop It! and here's why:
Multi-functional – can be used in the door jamb or under the door.
Lightweight – weighs only 1.35oz.
Portable – small enough to fit in your pocket or hook to your belt loop.
Durable – hard plastic base offers strength while soft overlay protects the door and door jamb.
Strong Grip – doors won't slide when using as standard wedge.
Hassle-Free – no bending over when placed in door jamb position.
DoorGuard Design – a critical notch built into the design to allow relief to gaskets around door jambs.
Who Uses Prop It!
Prop It! is a versatile door stop solution for several trades and businesses, including…
Prop It! FAQs
Check out some our frequently asked questions below.
How does Prop It! work?
Open the door 90 degrees and insert the door stop between the butt end of the door and the door jamb. -OR-
Wedge Prop It! under the bottom of the door to use as a traditional door stop.
Voila!  The door stays open while you do your thing.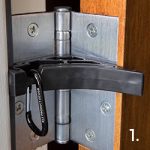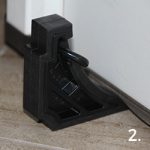 What size doors does Prop It! fit?
Prop It! fits most standard-sized commercial doors. The key dimension is 1.78 inches. That is the thickness of the door.
Can I hook Prop It! to something so I don't lose it?
Yes, use the carabiner to hook it to your belt loop, janitorial cart, or whatever you have handy.
Does Prop It! meet fire code?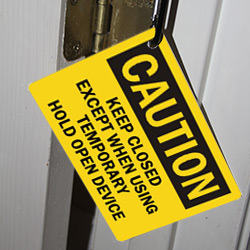 Yes, with this sign (shown to your right) attached to the carabiner, Prop It! meets fire code.
What if Prop It! does not fit?
Call KLS for custom designs to fit your door. Alternatively, Prop It! can be inserted under the door to keep the door open.
What keeps Prop It! in place?
The "sticky" rubber overlay provides frictional forces between Prop It! and doors as well as between Prop It! and door jambs to keep it in place.
What is the lead time for Prop It! bulk orders?
Please allow up to 2 weeks.
How many Prop It! door stops can I order?
You can order up to 6,000 door stops and still receive them in 2 weeks.
Does Prop It! come in different colors?
Prop It! comes standard in black.  We can manufacture in any color you choose, please call KLS for a custom quote today!
Why Don't More Retail Outlets Carry It?
Most retailers want to more than double their money. The big name chains want the most. If a product costs them $12.49, they want to charge you $25. The Prop It! is already priced at "Trade Pricing". Meaning, this is the price we sell it to commercial service users. And, we offer it to the general public at the same price. Big retail chains would have to charge you much, much more and they'd still be mad that we would take your order at a lower price. The retailers that do carry the Prop It! are not making their normal mark-up so thank them if you buy there!
Can I get a Prop It! with our company logo on it?
Yes, call KLS and we will be happy to put your logo on Prop It! There will be a one-time non-recurring engineering fee of $749. A stamping tool will be designed and made with your logo and will then be used every time your Prop It! is manufactured.
Do you ship Prop It! Internationally?
Customers Love Prop It!
"They work great."
General Manager, The Sound Hotel
"I use Prop It! to keep my door open when I'm loading beer into the refrigerator in the suites at Busch Stadium. It works great! No more trying to keep the door open with my leg; that was so frustrating. Now with Prop It!, it's so easy!"
Bartender, Delaware North
"The door stopper worked well... Prop It! was definitely much handier than the bend down and hope it fits wedges. (Chris uses a scooter and wants to move through doors easily. She used it when she went to a convention in St. Louis.)"
Michigan
"It is so handy to have Prop It! Door Stop in my pocket when working as a catering attendant at Busch Stadium. I use it to hold doors open when I bring food into my party rooms before guests arrive. It is especially useful when I bring a large dessert cart into a suite because I can push the cart through the door while Prop It! keeps the door open; nobody needs to hold the door open for me. I can't imagine getting through a shift at the stadium without my Prop It!"
Catering Attendant, Delaware North
"Yours (Prop It!) worked perfectly… Essentially, the doorstop goes in the door jamb perfectly… it works so well to hold heavy commercial doors open to 90 degrees, better than any of the others so far! I'll definitely be ordering this product again. (Maureen uses a motorized scooter and cannot bend over to put a traditional wedge under a door.)"
Virginia
"Prop It! is so easy to use. I just slip it in my pocket at the start of my shift so it is handy when I take luggage to a guest's room. When I open the door to the room, I grab Prop It! out of my pocket and pop it between the door and jamb to keep the door wide-open while I take luggage off the bell cart and into the room. It fits perfectly! No bending over! It works better than any other door stop I have used. It's ingenious! Guests have noticed it and want one for their own personal use!"
Bellman, Ritz-Carlton
"Prop It! is without a doubt the BEST door stop on the market! Having been in the commercial janitorial business for over 30 years, we have gone through many types of door stops. Nothing comes close to the many benefits of Prop It! One of the best things about Prop It! is its ability to hold any type of door open without fail. Other door stops do not compare to the design and strength of Prop It!"
President, Building Butlers, Inc.
"I do maintenance in a retail environment. We have several rooms with self closing doors, locked doors. You can wind up shut out of the store or into an unpleasant little room if your not careful. I keep Prop It! hooked to my belt and use it frequently. I am also quite pleased with the fact that I don't have to bend over to use this door stop. The door jam position saves my back!"
Denver, CO
"We have heavy steel doors in the apartment building I manage. With Prop It!, our doors don't budge, even in some of the heavy winds we've been seeing down here in Texas lately. The carabiner is nice because we actually hook them on the back side of the door when not in use."
Austin, TX
"As a teacher, I need to be out in the hallway between periods. You don't want your door shut if you are not in it. The little wooden wedges don't last long so I was looking for a longer lasting and durable solution. Prop It! is the best!"
Indianapolis, IN
"I outfitted my entire team with Prop It! They keep Prop It! hooked on their uniform at all times for quick-use. It saves time and headaches, plus no more dragging around a heavy brick door stop!"
St. Louis, MO